The Foundational Difference
What is a Foundational Distortion?
In many areas of healthcare, we know there is a normal range for optimal health. Such examples include: blood pressure, body temperature, and vision. In the same way, there is an ideal normal for the structure and function of your spine and nervous system.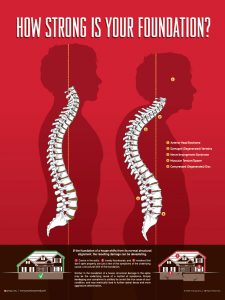 The doctors at Cornerstone in Ewa Beach,  Kapolei, Kaka'ako, and Kailua utilize state-of-the-art equipment to determine the presence of Foundational Distortions in the spine. This is typically the underlying cause of numerous secondary conditions (symptoms) that you may be experiencing. If a Foundational distortion is detected, Cornerstone creates a personalized plan to correct these abnormalities so that you can not only feel, but also function at your best.
To further understand the effects of these underlying Foundational Distortions, consider this- if a house has a poor foundation, you may find that you see cracks in the walls, windows that don't shut correctly, and floors that may begin to creak. One may choose to continuously address these individual issues (symptoms) by filling in the cracks, lubricating the windows, and hammering another nail in the floor. In all likelihood, the individual issues are likely to keep recurring until the underlying cause is corrected. So if you are sick and tired of filling the pot hole on Monday for it only to return on Wednesday, please give our office a call to see how we can help.
---
What are Secondary Conditions?
When a Foundational Distortion occurs, it can lead to many possible secondary conditions. At CCC, correcting these Foundational Distortions frequently helps our patients with conditions such as:
Colic
Acid Reflux
Ear Infections
Allergies
Asthma
Pain
Sciatic
Sensory Processing Disorder
Bedwetting
ADD & ADHD
Neuro-Developmental Disorders
Infertility
Pregnancy Challenges
Fatigue
Headaches
Migraines
Numbness
---
How do I
Kn
ow
if I Have a Foundational Distortion?
There are several clear, objective signs of a Foundational Distortion. If a patient chooses to proceed after a no-pressure Complimentary Consultation, they undergo a Complete Foundational Chiropractic Examination, which includes:
Neuro-motion Analysis
Nervo-scope
Foundational X-rays (if needed)
Orthopedic and/or Neurologic testing
In-Depth Case History Review
An abnormal finding in any of these tests indicates the presence of a Foundational Distortion.